Online

Trading Journal
Edgewonk is an online trading journal that analyzes your trading, identifies your weaknesses, and helps you trade better.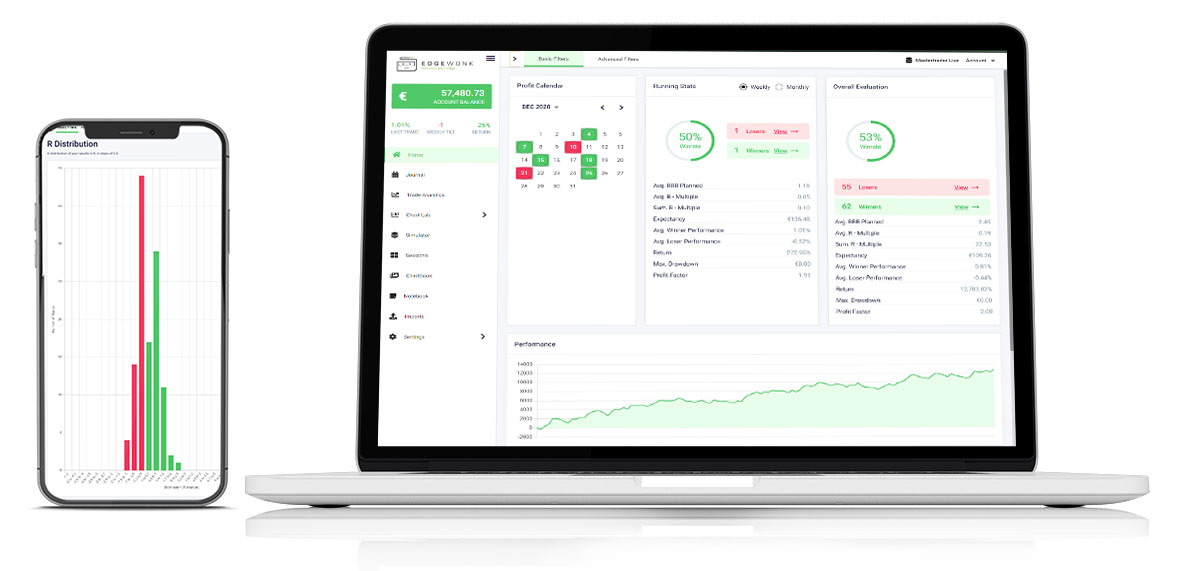 All
MArkets
Edgewonk is compatible with all markets worldwide:
Stocks

Forex

Indices

Commodities

Crypto

Futures

CFD
All
Currencies
Works for all international currencies.
No matter the currency of your trading account, Edgewonk will work for you.
All
Styles
Edgewonk is a fully customizable trading journal.
You can use Edgewonk as a day trader, and as a swing trader alike.
No matter how you trade, Edgewonk adapts to your own unique requirements.
SUPPORTED
PLATFORMS
You can easily journal your trades manually in Edgewonk. But for faster trade processing, you can also import your trades using the Edgewonk import feature if your platform is supported:
ATAS

Bybit

cTrader

Custom Excel

Dukas Copy

ForexTester 3

Global Prime

IG Forex

Interactive Brokers

MetaTrader 4

MetaTrader 5

NinjaTrader 7

NinjaTrader 8

Oanda

Optimus Flow

Sierra Charts

TD 365

TD Ameritrade

Think or Swim

Tradezero

Tradovate

TradeStation
Performance

Analysis

Edgewonk offers 20 different graphs and performance visualization features:
Losing and winning streaks

Drawdown visualization
Custom Statistics
Efficiency and trading mistakes
Holding time
Performance by instruments
Performance by time and day
Performance by setup and strategy
R-Multiple distribution
Sortino, Sharpe, profit factor, gain to pain
SQN ratio
Winrate over time

and more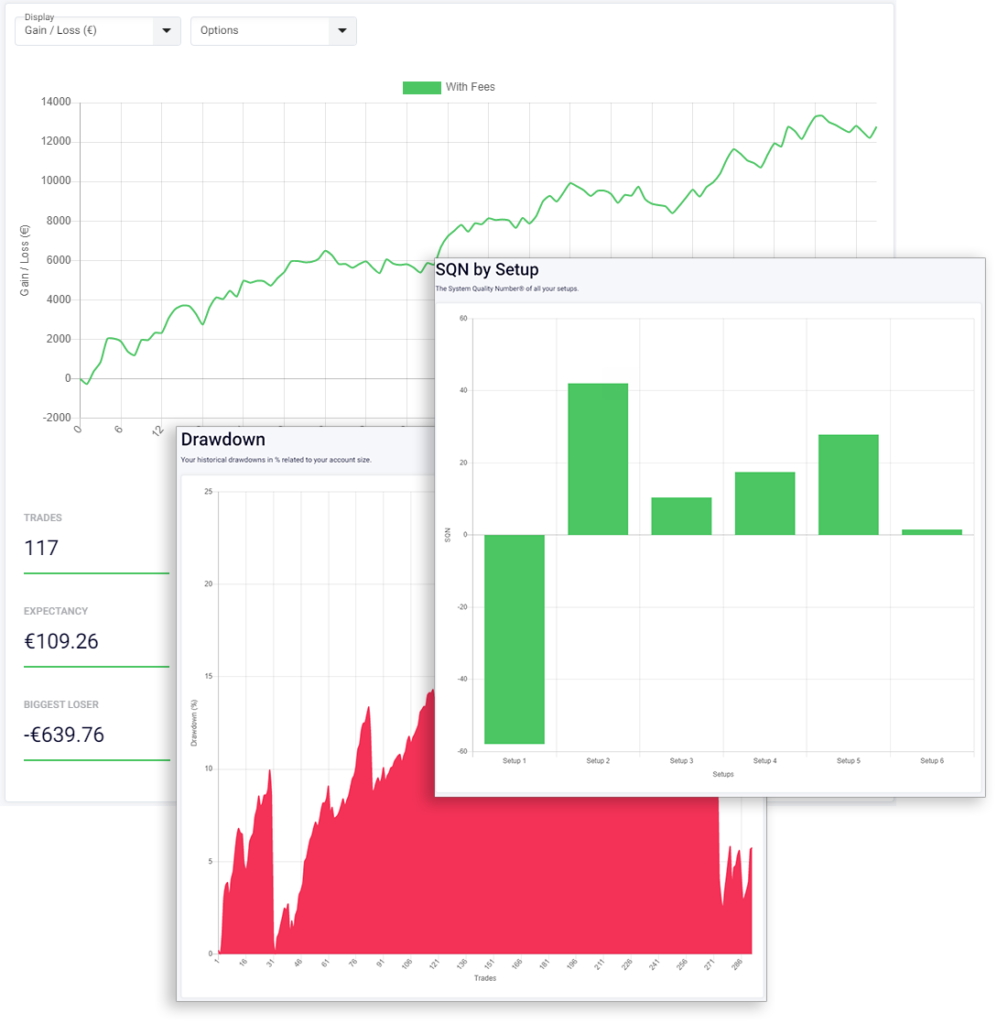 Profit

Calendar
See how many trades you take per day. The calendar shows the daily profit, the R-multiple, and the percentage gain on your account.
Visualize losing and winning streaks.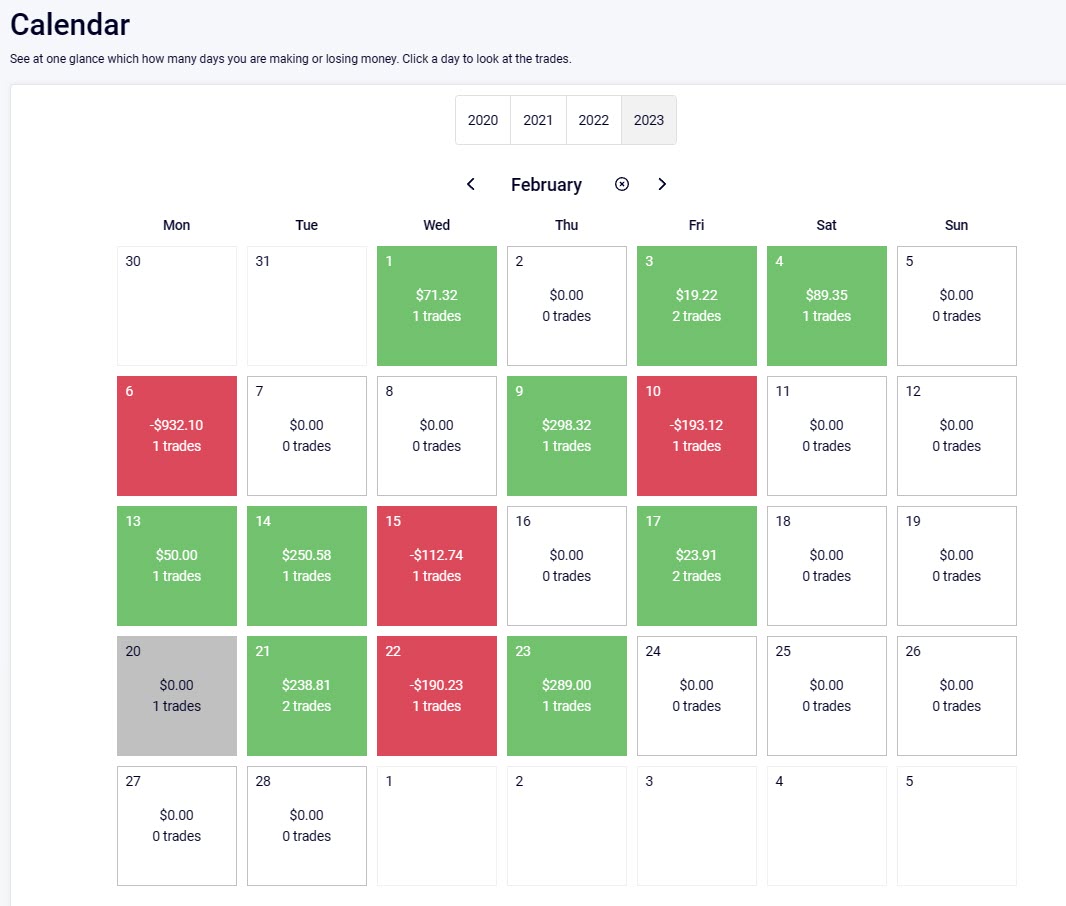 Claim Your Special Price!
Use discount code "Tradeciety" at checkout and get a special price when signing up for Edgewonk.
Discount code: Tradeciety
Trade
Management

Optimizer

Are you leaving money on the table?

Edgewonk analyzes if you are mismanaging your trades and shows you if you could have made more money on your trades.

Learn from mistakes and optimize your trades.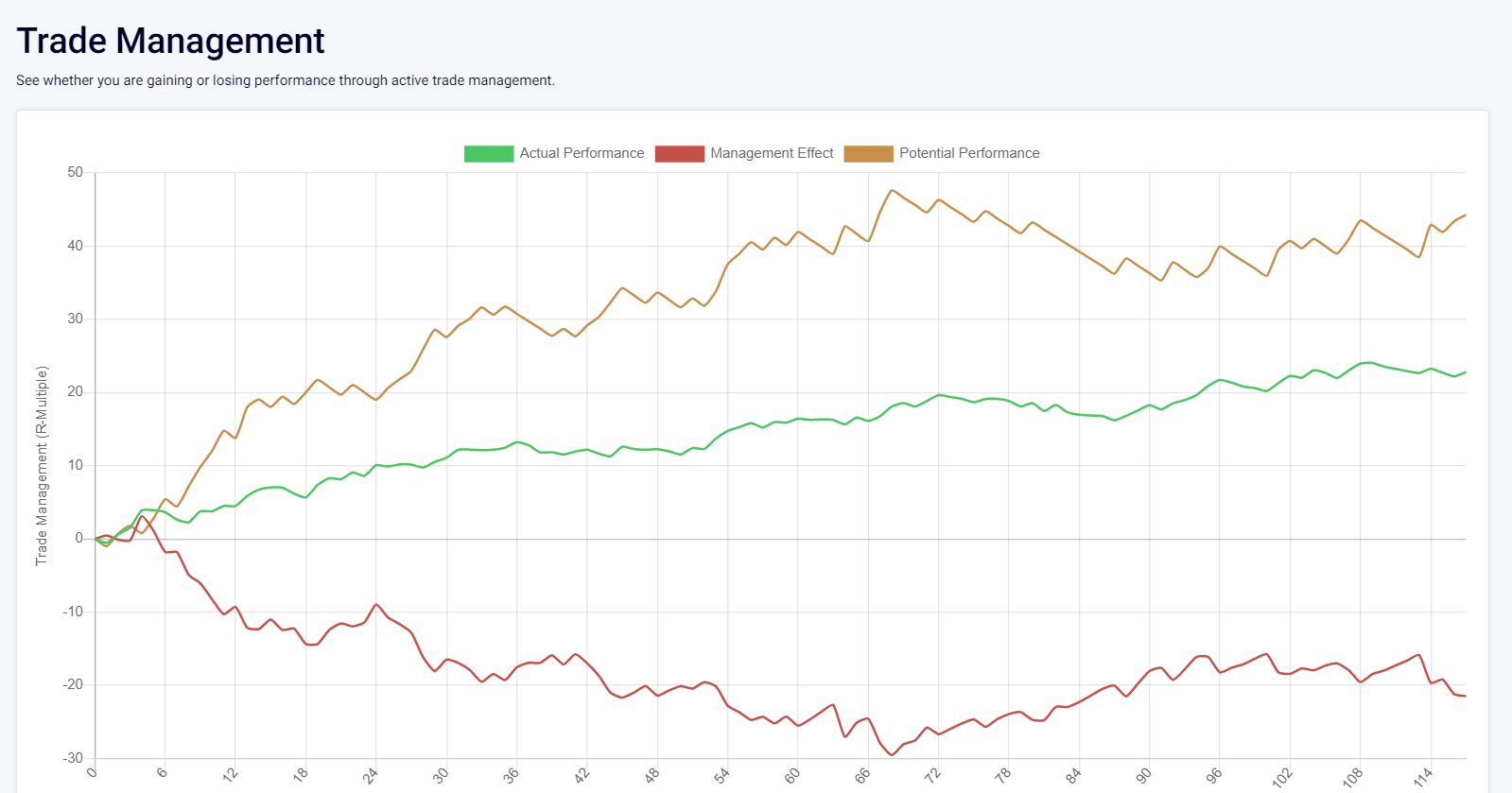 Exit

Analysis

Improve your exits, and your target and stop loss placement.

The exit analysis shows you how close the price came to your target and your stop loss. Also, check how much the price has moved in your favor.

Increase your winner size and your reward:risk ratio.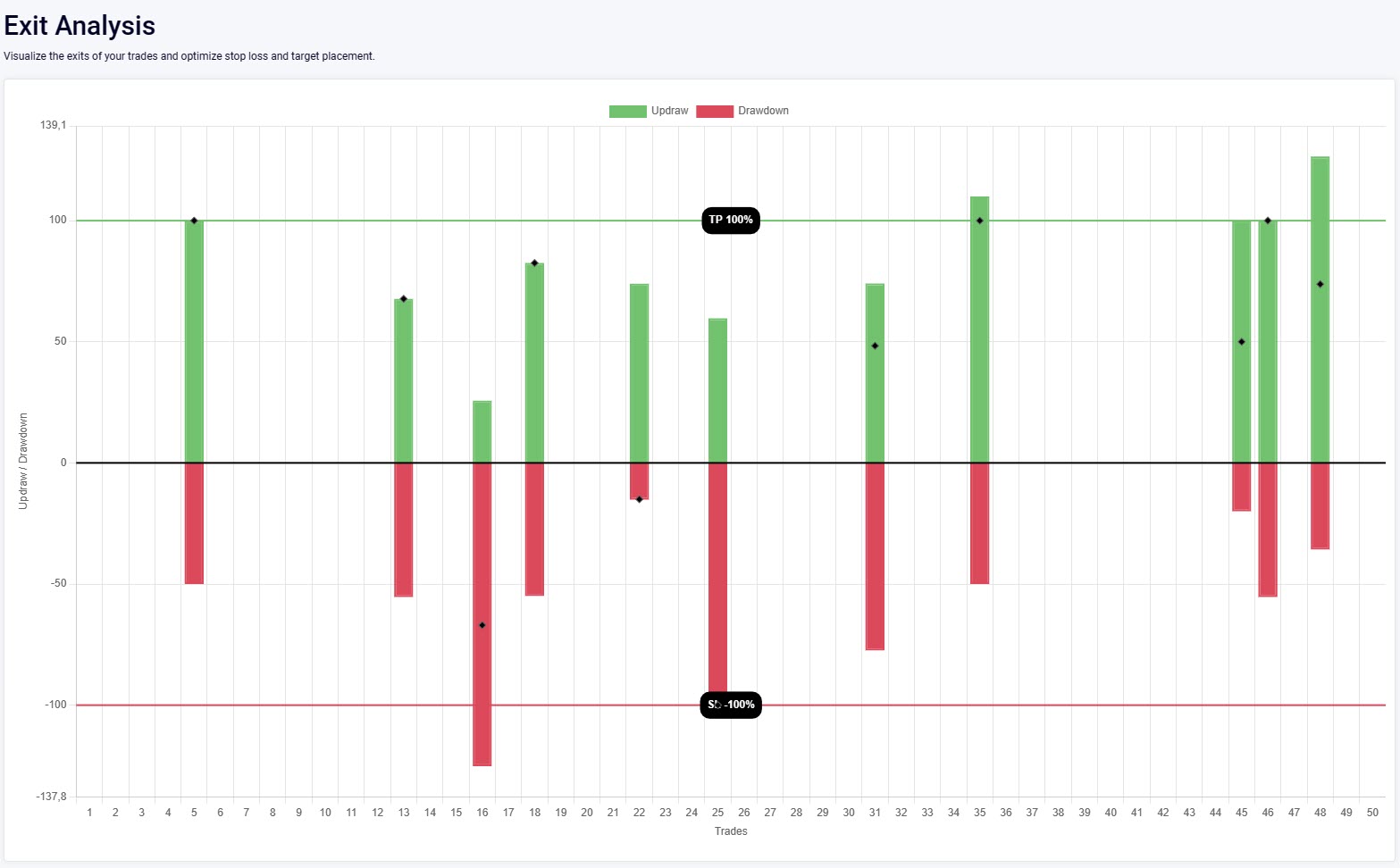 Trading
Plans
Plan your trades in advance and improve your trading routine.
After you have planned your trade, easily move the trade into your trading journal to your other trades when you have taken it.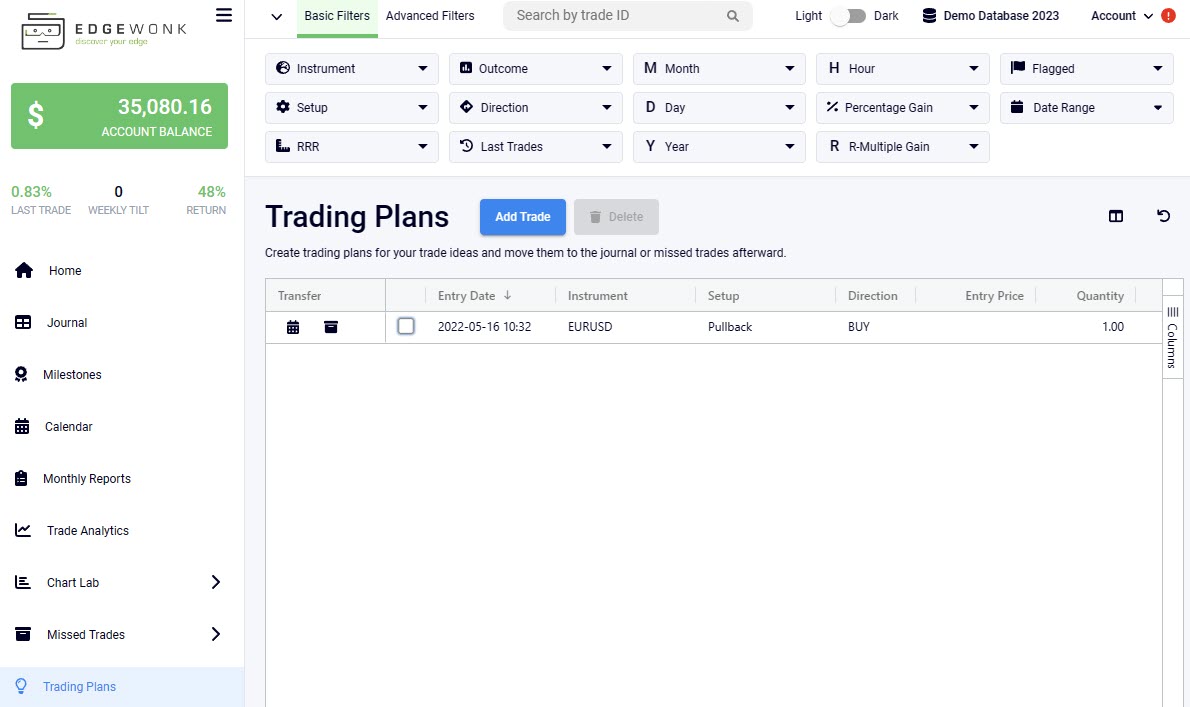 Psychology

Analysis
Edgewonk analyses your level of discipline, how often you break your rules, and how much money this is costing you.
Identify your weaknesses and then work on them to improve your performance.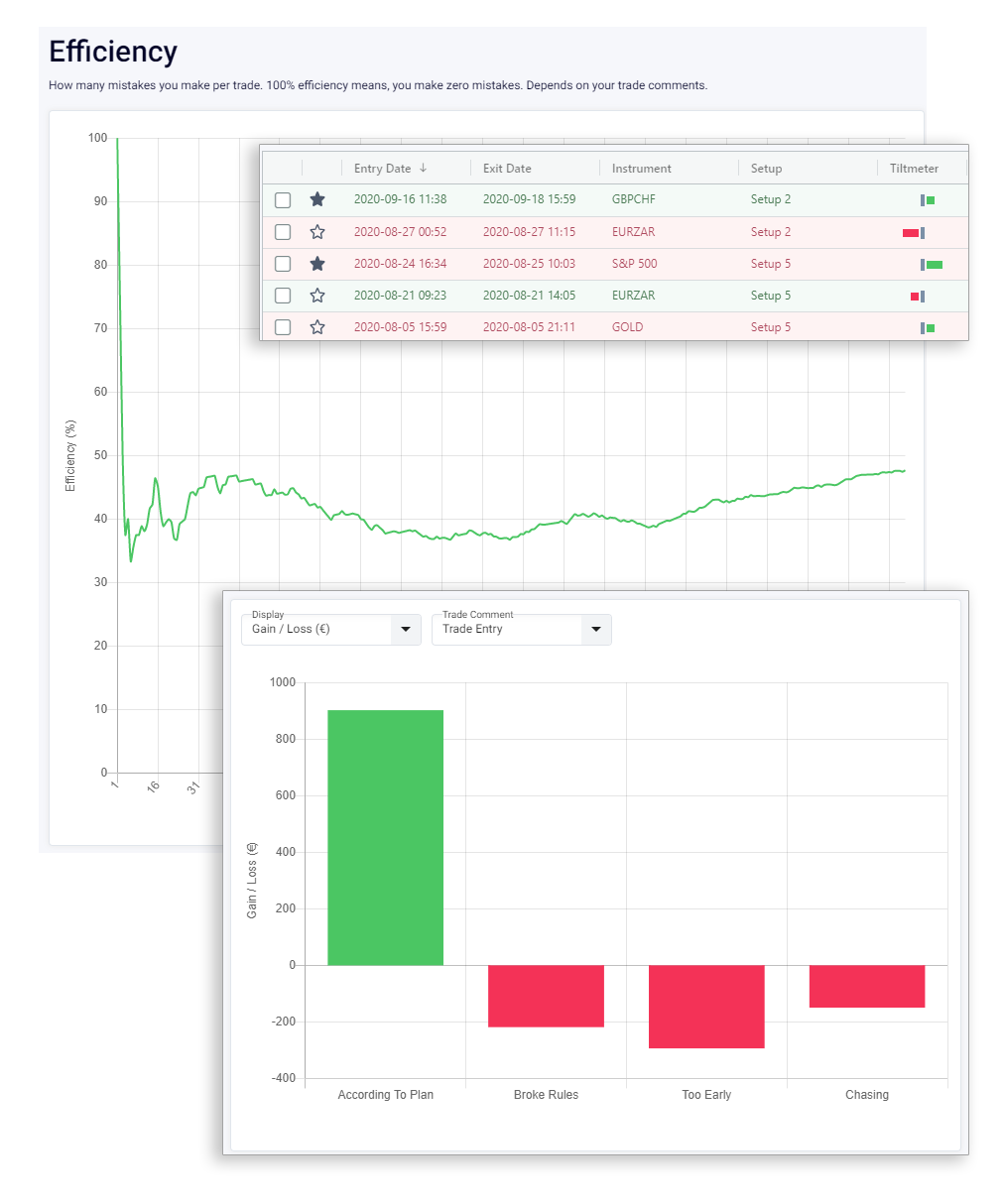 Multiple

Journals

With one Edgewonk subscription, you can create multiple trading journals.

You can create a new trading journal for each of your trading accounts.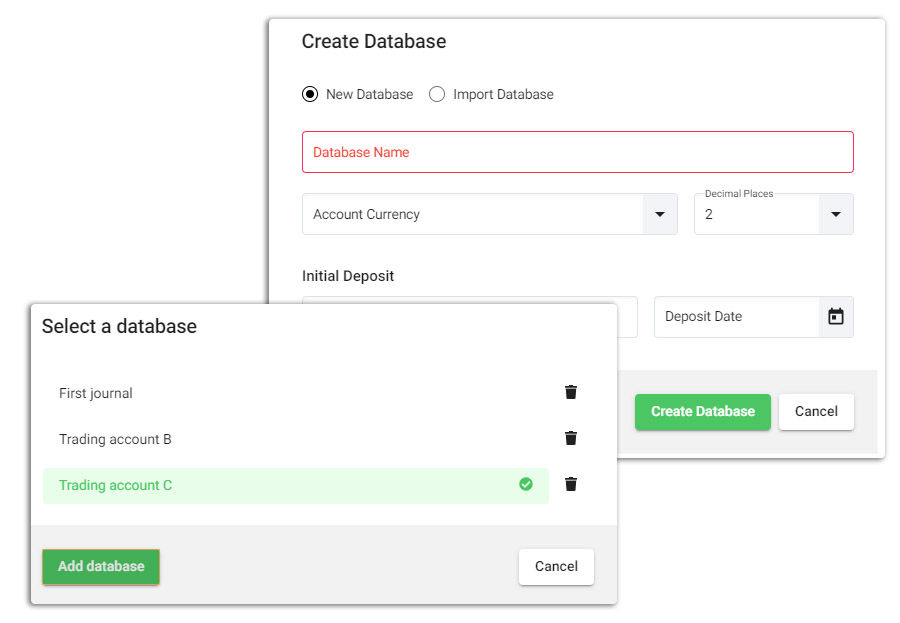 Session

Reviews
After you are done with your trading day or your trading week, create a new session and rate your overall performance.
The sessions feature allows you to capture your thoughts and remember important lessons.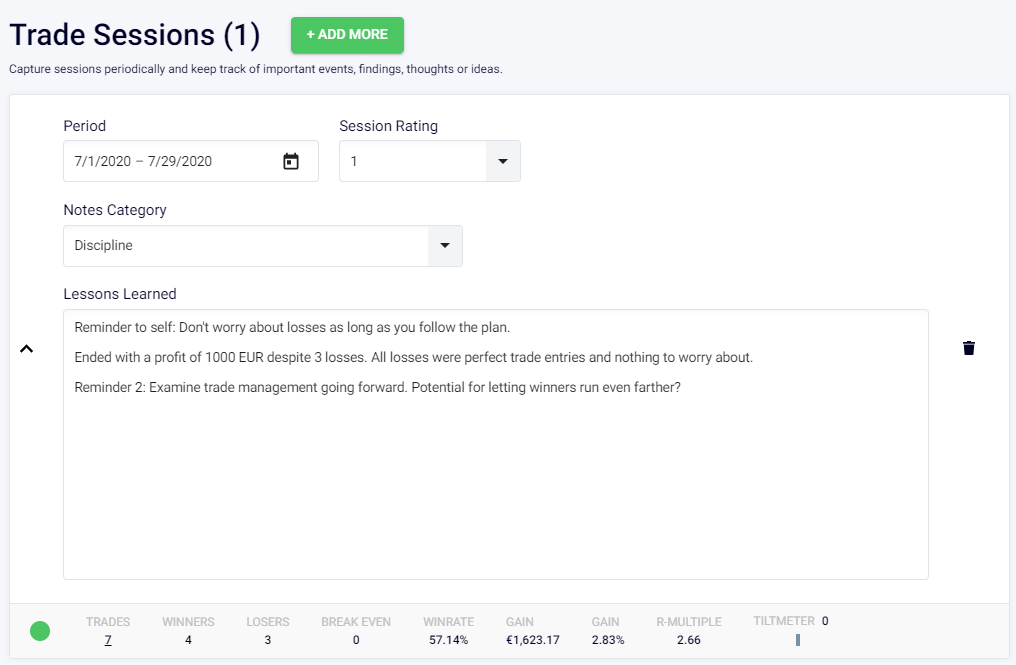 Missed

Trades

Tracking the trades that you have missed can help traders uncover problems in their routine or execution.

Find out when you are missing trades and how much money you lost by not taking valid trades.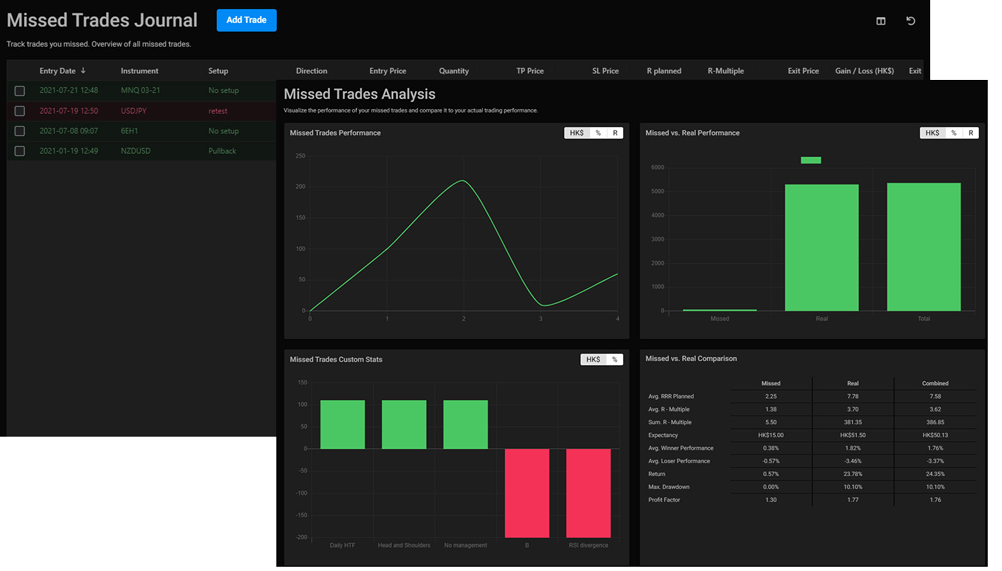 Claim Your Special Price!
Use discount code "Tradeciety" at checkout and get a special price when signing up for Edgewonk.
Discount code: Tradeciety
Notebook

+

Diary
Edgewonk combines the best performance analysis with traditional journaling features.
In the Edgewonk notebook, you can capture your thoughts and everything related to your trading.
Keep all your trading information in one place.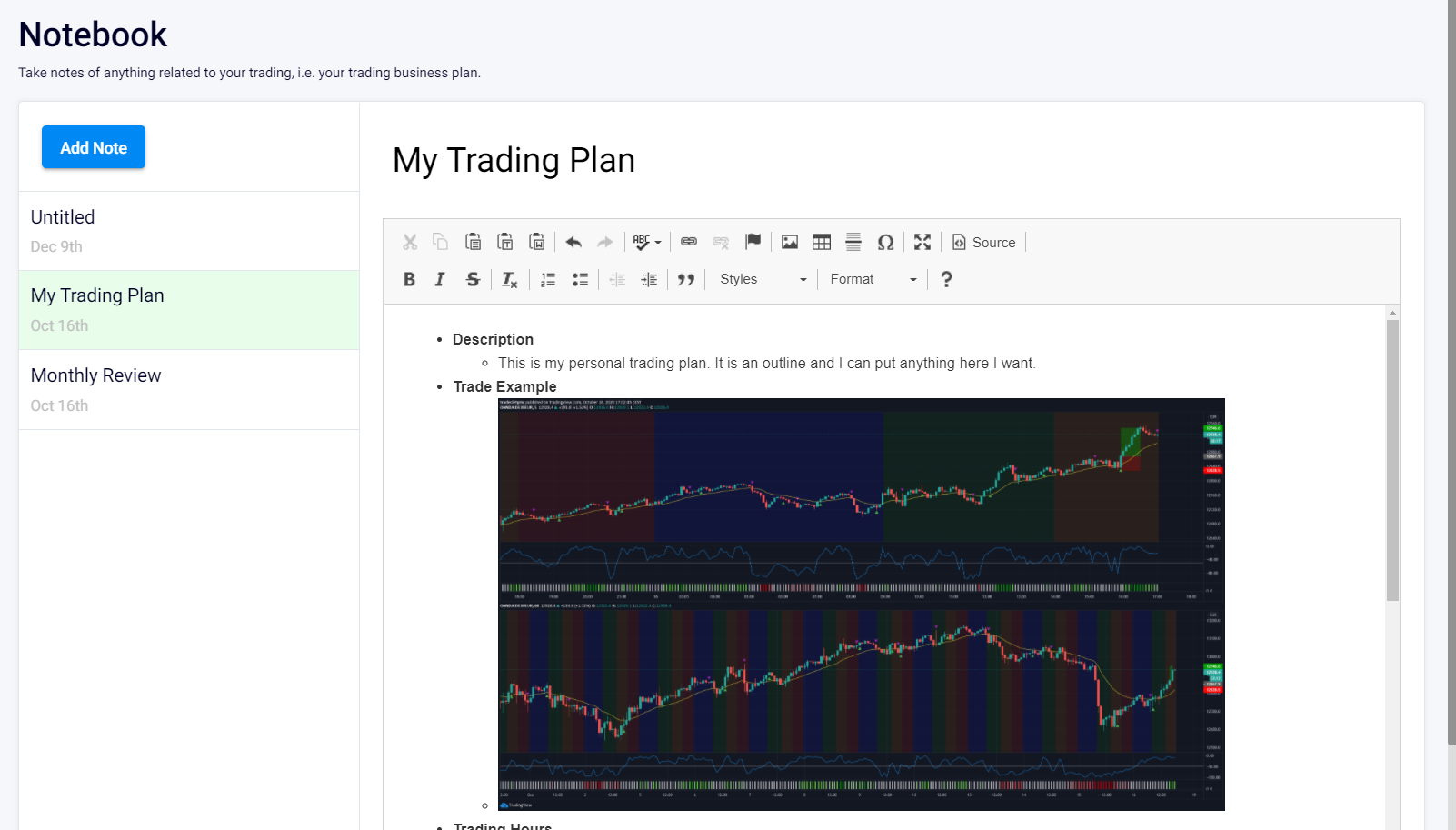 Weekly

Reports

Follow your monthly and weekly performance over time.

The reports in Edgewonk show where you are improving and highlight where your performance is lacking on a weekly basis.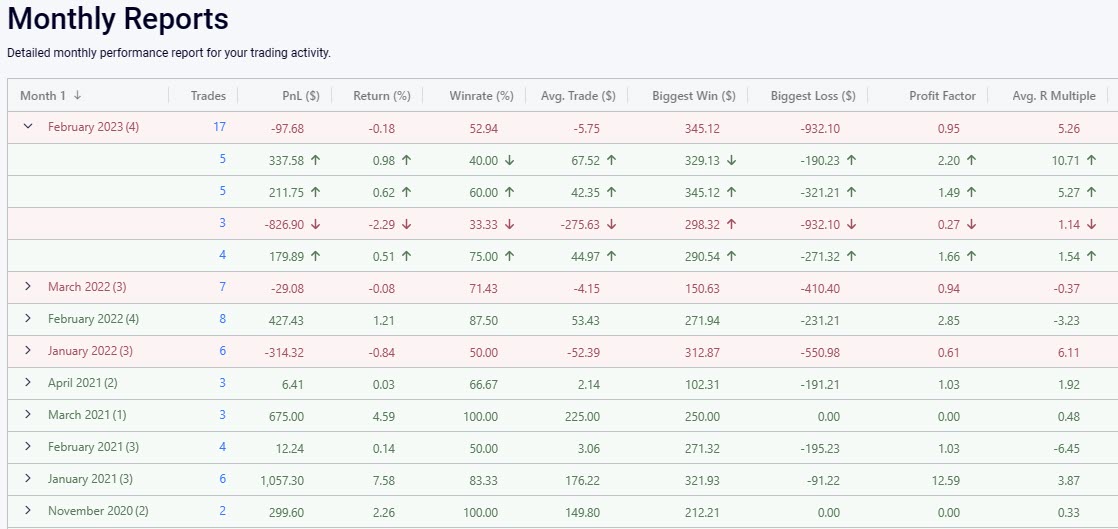 Chartbook
Add up to 6 trade screenshots per trade.
All trade screenshots are kept in the chartbook for a quick and efficient review.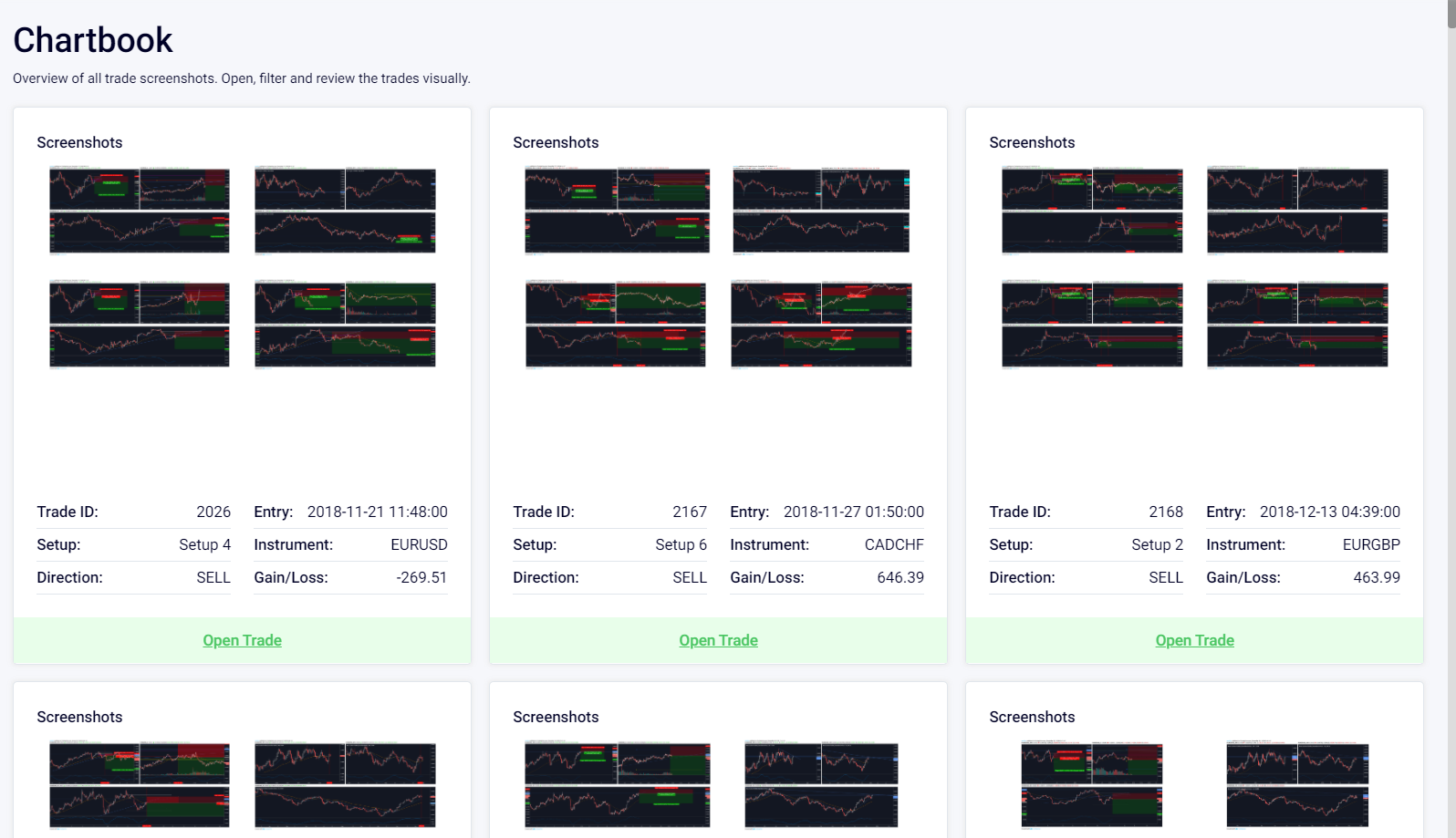 Trade
Analytics
The trade analytics help you to really understand your trading performance.
You can dig into any part of your trading and get detailed performance breakdowns.
The analysis is fully customizable.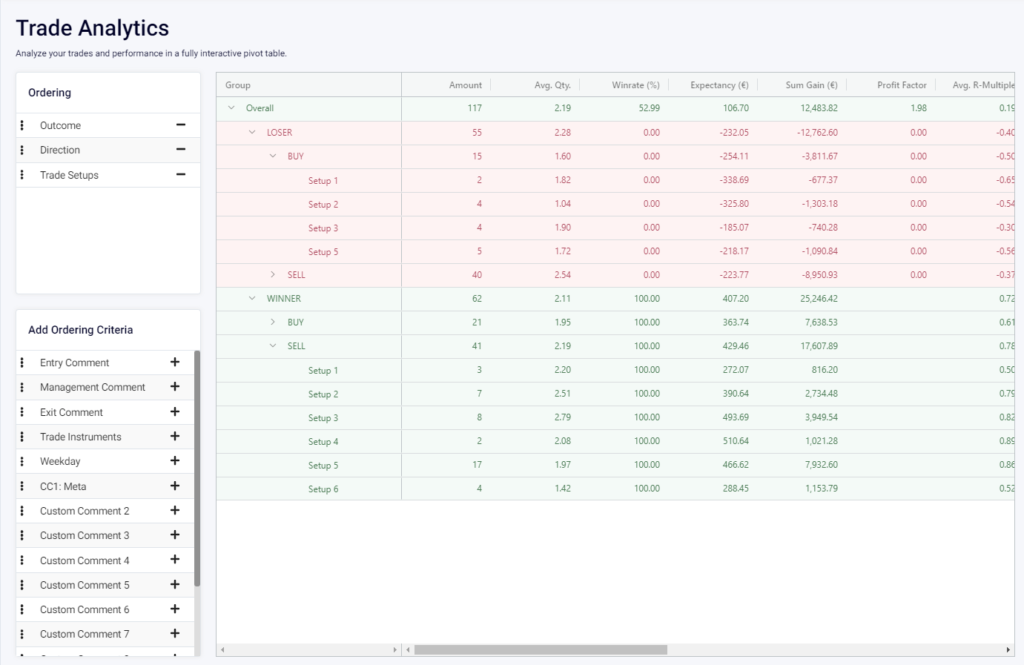 Milestones
Milestones offer a unique and engaging way to monitor your progress.
Edgewonk comes with 9 pre-defined milestone challenges, each focusing on a different aspect of your trading.
The challenges help you grow and make journaling a fun experience.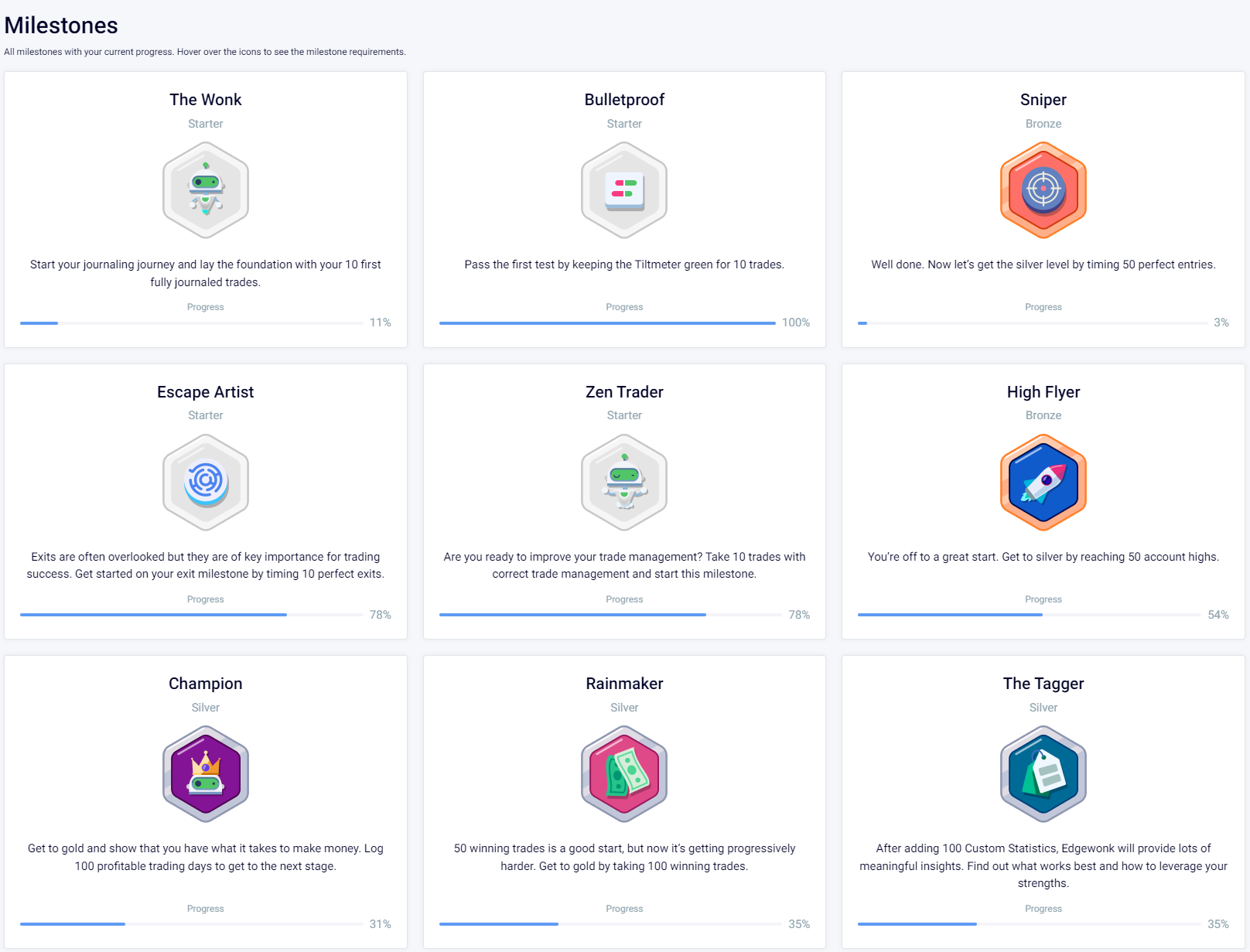 Dark

Mode

Easily switch between the light and the dark mode with just one click.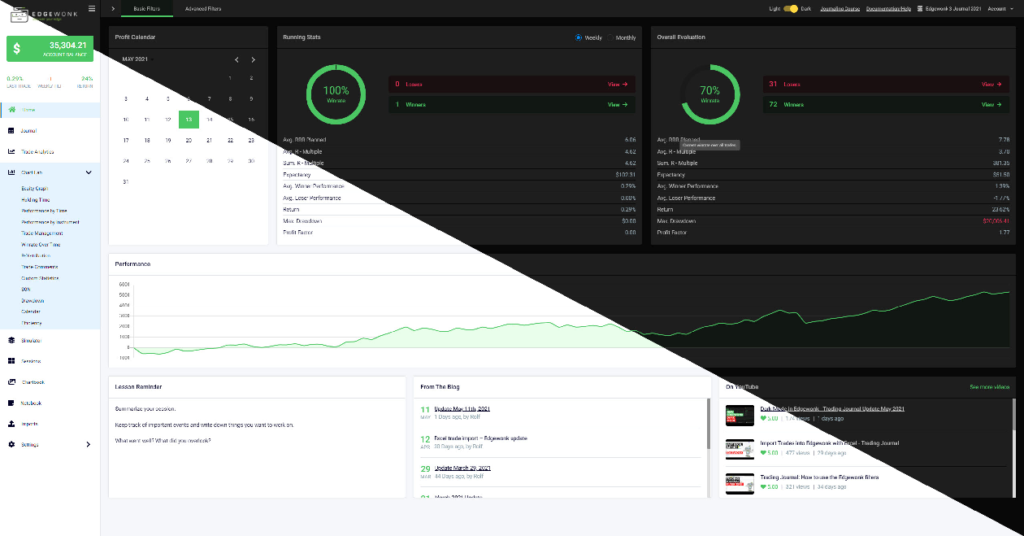 Claim Your Special Price!
Use discount code "Tradeciety" at checkout and get a special price when signing up for Edgewonk.
Discount code: Tradeciety